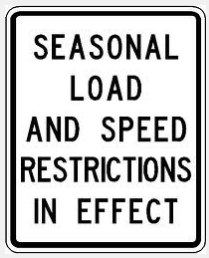 In Michigan, when the pot holes start showing up, we know that the frost is moving out of the ground. Along with the frost moving come the Spring Weight Restrictions. For most people, this doesn't affect their day-to-day life, but if you are planning on receiving a heavy piece of equipment, it can put a stop to your project.
Our advice – plan ahead. If you have a project that includes moving a heavy piece of machinery within Michigan, it's best to avoid mid-February to mid-April. Because the Weight Restrictions vary with the weather, there's no way to predict exactly when restrictions will go on or come off. It's better to plan around those early spring months for loads heavier than the legal axle limit.
If you'd like to check on the Spring Weight Restrictions in your area, here are links to both the county road restrictions and the State trunk lines:
http://www.micountyroads.org/weight.php
http://mdotcf.state.mi.us/public/alerts/bulletins.cfm?bulletin=weight
We can help you determine if the weight restrictions will impact your project.